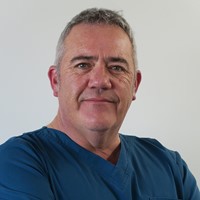 Dr Francis McIvor, Lead Clinician at Lumino is moving to Redwoods Dental in Kerikeri. We caught up with him to learn more on the move, rural dentistry and what made him love Temuka for eight years.
Tell us about your Dental Career?
I'm originally from Belfast in Ireland and qualified back in 1986 in Bristol, started my own practice in Cheshire which I ran for 20 years. Decided it was time for something different, and as we had long considered New Zealand, I got in touch with Andy Tapper and had a chat.
We were also excited for a better climate than we had in Britain, and New Zealand was a much safer place to live. We are happier than ever we made that decision. I had 2 tours of NZ before moving out here. To be honest, Temuka was never on our list of locations, but there was a role available and we thought we would give Temuka a try for 6 months…. 8 years later we have loved every minute. We have really enjoyed ourselves here and are sad to leave my friends and patients behind.
You're gearing up to relocate with Lumino to our Redwoods practice in Northland, what insights could you give us about Temuka for someone considering the move?
Look - this place has the loveliest community, the town is small, and my wife and I were able to gain friends so quickly. It is easy to immerse yourself in the community as everybody is so nice and neighbourly and there are lots of community events. Being a golfer, we built a house in the heart of the Meadow links community on the golf estate which is surrounded by a deer farm.
What do you think rural Dentistry has offered you, in your career to date?
I feel there is a perception that you need to be in the big city practices to get the lucrative work, but I would argue that in a rural setting we have just as much opportunity for success. Being in a rural setting is general dentistry at its best. It forces you to be adaptable to do all aspects of dentistry, there are basically no restrictions in what we can do. For instance, there is scope for implants if you have the skills for it. And the appreciation I receive for the cosmetic work I have done delivers great job satisfaction.
If you were to offer advice to someone considering making the move to a Rural location from a City, what would you say to them?
You have to be prepared to get involved in the community. You need to get amongst it and be seen to be a face about the place. If you choose not to get involved, you might find yourself isolated very quickly. I found having the visibility in the community was instrumental in growing my books and gaining trust of my patients. As an example, I found the golf club to be an unexpected treasure trove of potential patients. I can't tell you how many private consultations I have had on the first tee of the golf course. Many of these people have never been keen on going to a dentist and were self-conscious. They felt they had terrible teeth and would not have come into the practice if they didn't know and feel comfortable with me.
What is something unique about Temuka as a place to live, that people might not know about, and what made it home for you for such a long time?
Temuka is very central, it is right on State Highway 1 and only 10 mins from Timaru (with most of the convenience stores you need). We have the gorgeous beaches of Caroline Bay nearby with bars and restaurants overlooking the bay. You have access to lakes, ski fields and plenty of walking around the rivers. It is one of the few places in the world that at any time of the year, you can look out over the sea to snow-capped mountains. Only 1.5 hours from Christchurch, nice close to an airport. If you are after the night life obviously this is not the place for you. But if you love getting out in nature and the great outdoors, and you love feeling like you have a place in the world nestled inside a warm community, Temuka is the spot for you. It certainly is a classy style of living.
If you're tired of being in the rat race of a city, sitting in traffic, think about contrasting that with Temuka, we have no traffic, not even any traffic lights to get stuck at. I often go home for lunch as its only 9 minutes from the practice and enjoy lunch with my wife over-looking my pool. Does work/life balance get any better than that?